On a hot summer afternoon, the lady of the house saw three old men sitting on a bench in the patio outside her bungalow's courtyard. She reached out to them and offered to come inside her house and relax. One of the old man asked the lady, 'is your husband home?' she said 'no, he will come in the evening." All three old men looked at each other and the same man replied…"tell us when he is at home." The lady went back helplessly and feeling sad that these old men had chosen not to have a shelter and continue to sit under scorching sun.
Next day was a holiday and her husband was at home. In the afternoon, she looked out again and found the three old men sitting on the bench. She went out immediately and offered them to come home. She also added that her husband was at home. The old man said, "We can come inside your home but there is a condition." He continued, "Let me introduce us. My friend here, his name is 'Success', this one is 'Wealth' and I am 'Love'. Between us, we have an understanding that only one of us can come to your home. Ask your husband whom he wants to invite."
The lady was confused and perplexed but she went inside to ask her husband. She narrated what happened yesterday and her conversation a while ago. Husband said, "Though weird but if that is the case, get 'Wealth' to come in." The lady said, "no, I prefer 'Success' to come over Wealth. I always wanted you to be successful." While both husband and wife were discussing this, the daughter who was in her room came out overhearing the conversation and said, "I feel we should invite 'Love'. I would always want Love to stay in our home."
Both the parents agreed to the daughter's suggestion and the lady came back to the three old men and said apologetically. "Gentlemen, keeping your understanding in mind, we wish to invite Love to come to our house." And the lady started directing Love towards her bungalow. To her surprise, she saw both Wealth and Success also getting up and following them inside the house. She turned and stopped with a question on her face. Looking at her, the old man said, "My lady, I know why you are puzzled. Let me explain…If you would have asked for either Wealth, or me i.e. Success, only one of us would have come to your home. But you asked for Love to come home and between three of us, we also can't stay without Love so wherever Love goes, Wealth and Success follow.
— — — — — — — — — — — — — — — — — — — — — —
On 4th February 2017, I met Dr. Prasad Deodhar, founder of Bhagirath Gram Vikas Pratisthan, Sindhudurg at an event organised at Lala Lajpatrai College of Commerce & Economics by their e-Cell students. The theme of the "Inventure 2016–17" was 'Social Entrepreneurship'.
Dr. Deodhar very modestly told me that both his wife and him are medical doctors. One day, they decided that only one professional may work for their family livelihood and needs, while the other can contribute to the people and society. Dr Prasad Deodhar decided to dedicate himself to the welfare of the people of Sindhudurg and started an NGO — Bhagirath Gram Vikas Pratisthan. (www.bhagirathgram.org)
In his address, Dr Prasad highlighted an important thought which we are all familiar with but may not have looked at with that perspective. He said, in India, in our rituals / culture, before we undertake any new activity such as opening new books of accounts, Housewarming ceremony, inaugurating a new machine or facility etc. we write –

शुभ — — 'Shubh' is like praying to God that whatever is auspicious should come to us.
लाभ — 'Labh' means that we should be benefitted with whatever is auspicious.
Traditionally, we have placed 'Good and auspicious' before 'Benefits'.
A person may stumble upon an idea because of their unending urge to learn new skill / technology, to solve an existing problem through technology. Some very urgent and/or important need to be addressed, or even following a global model / success story.
An entrepreneur who conceives an idea with the aim of 'good for others' before contemplating their benefits is more likely to succeed. Hence to me, at its inception, every such start-up would resemble social enterprises, focusing on good for others. Then some may call the outcome as Profits and some may call it as surplus.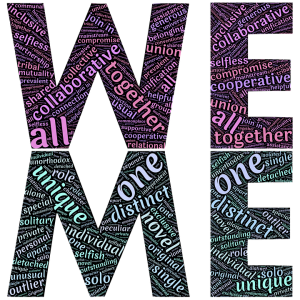 We hear multiple stories today of some of the hugely successful start-up founders pointing out to the same thought process of identifying the pain of society and solving / addressing the same with passion. Reversing ME for WE.
(Addressing Societal) Pain + (with the intent of) Goodness = Gains. (Profit or surplus)
We also hear many start-up failures where, despite the best co-founding teams coming together, the idea could not take off. Such start-ups remind me of this very insightful couplet –
"वो नाखुनो से बनाते हैं कुंवे चट्टानों पर,
और फिर उम्मीद रखते हैं की इनमे से पानी निकले |"
"Wo nakhuno se banate hain kuwe chattano par
aur phir ummeed rakhte hain ki inme se paani nikle."
"They are making wells on the rocks with fingernails, in anticipation of finding water !!"